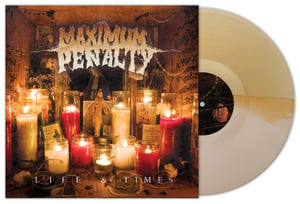 $

20.00
MAXIMUM PENALTY "Life & Times" LP Vinyl.
Intense hardcore by this legendary NYHC band.
This full length album includes insert with Lyrics, Liner Notes, Photos and Artwork. Colored Vinyl.
Released on Reaper Records.
Track Listing:
Side A:
1. Life & Times
2. Paper Bullets
3. Fight My Way Back
4. ...And The Walls
5. Threat Assessment
6. By All Means
7. Tribulations
Side B:
1. Those Condemned
2. Myself
3. What Goes Around
4. Truth & Consequence
5. Realize
6. Middle Of Nowhere
7. If I Fall...