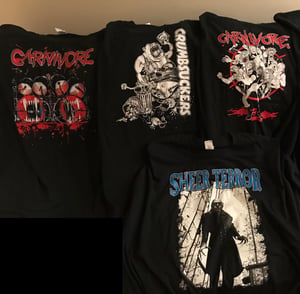 $

40.00 - On Sale
4 NEW size 5XL T-Shirts for $40. (Normal price would be $88).
Size 5XL Lockdown Special - Carnivore, Crumbsuckers, Sheer Terror.
Special - 5 Shirt Package Deal.
All shirts are size 5XL.
All shirts are NEW and UNWORN!
This package includes:
CARNIVORE- On The Threshold Of Extintion Design.
CRUMBSUCKERS - Mr Crumb Design
CARNIVORE - Legion Of Doom Design.
SHEER TERROR - Possferautu Design.