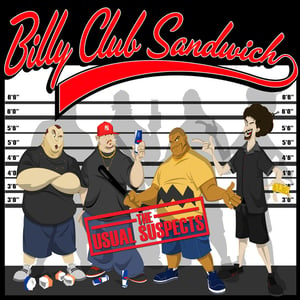 $

10.00
BILLY CLUB SANDWICH "Usual Suspects" Compact Disc.
Brutal NYHC with a touch of Thrash. All New Recordings and a Sheer Terror cover to boot. Features lyrics in English/Spanish. The new leaders of New York City Hardcore. BCS causes the most notoriously famous slam-pits.
Enhanced CD with Bonus Videos.
Full Color CD booklet contains Lyrics, Liner Notes, Rare Photos, Cool Artwork and more.
Track Listing:
1. Bodega
2. Turning Point
3. Far From The Truth
4. Bottom Of The Barrel
5. Shark Tank
6. Ready To Halt
7. Bodega (En El Bloque Version)
8. The Usual Beat
Bonus Videos:
-Slow With Your Hands
-Narco Cabron
-The Promo