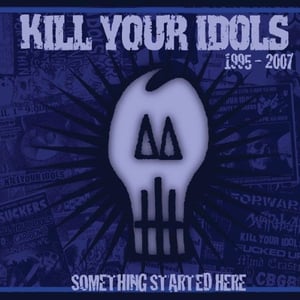 $

10.00
KILL YOUR IDOLS "Something Started Here" Compact Disc.
38 rare and classic songs. CD booklet contains Liner Notes, and annotations about the recordings.
This CD collects most of the EPs, splits and comp tracks recorded by New York hardcore legends Kill Your Idols in their span between the years of 1995 and 2007, including the splits with Full Speed Ahead, Nerve Agents, Voorhees, and Good Riddance, the "For Our Friends" EP, and countless other tracks including some rare cover songs.
Track Listing:
1. Can't Take My Pride
2. 10 Cents A Day
3. Lead Song (NEGATIVE APPROACH)
4. Word Without Actions
5. Enjoy The Show
6. Lost In Space (SOA)
7. Again
8. Can't Tell No One (NEGATIVE APPROACH)
9. Hardcore Circa 1999
10. Do You Know?
11. Step On It (SLAPSHOT)
12. Empty Room
13. Green
14. Goodbye To You (SCANDAL)
15. Gray Skies Ahead
16. Nameless
17. Dead Meat/Nailbomb (VOORHEES)
18. The Shortest Dream I Ever Had
19. Chesterfield King And Propagandhi
20. I Told You So
21. Another Great Start To A Miserable Day
22. Here To Stay (SHEER TERROR)
23. From XLII To UR90
24. Why Can't I?
25. Time Don't Heal A Thing (SHEER TERROR)
26. Fur Is For Fucks
27. Hippie Song
28. Do You Still Hate Me? (JAWBREAKER)
29. F.B.A.W.
30. 159
31. All That & Vans II
32. Dagger
33. Stop The World
34. I Still Feel The Same
35. Dead Cities (THE EXPLOITED)
36. Thanks...
37. What I've Become
38. Vengeance (BREAKDOWN)