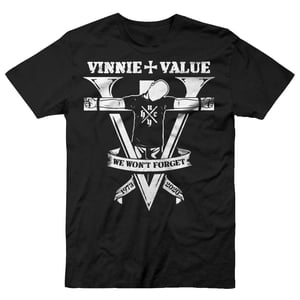 $

25.00
VINNIE VALUE "We Won't Forget" design T-Shirt.
PROCEEDS DONATED TO VINNIE VALUE'S CHILDREN.
Black T-Shirt.
See drop down menu for all sizes including Girlie Shirts at the bottom on the menu.
Vinnie "Value" Verga played drums in NO REDEEMING SOCIAL VALUE, WARZONE, GREY AREA, and KILL YOUR IDOLS. Vinnie was a very close friend to Dead City Records and Dead City Merch and we saw Vinnie almost on a weekly basis. This original artwork and design was made for the guys in KILL YOUR IDOLS by the artist Muna Salik. This T-shirt is made with the direction/blessings of the guys in KILL YOUR IDOLS, NO REDEEMING SOCIAL VALUE, and WARZONE Vinny was a friend and a brother to us all. Rest In Peace Vinnie! We love you! We will also have this shirt for sale at the KILL YOUR IDOLS show on February 29, 2020 in Long Island NY.